ANOTHER GREAT BEER FESTIVAL
Monday 21 March 2022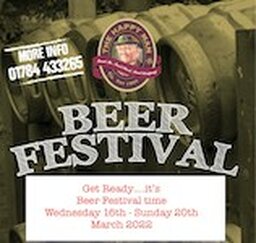 The Happy Man in Harvest Road, Englefield Green held it's first Beer Festival for some time (due to you know what) from 16th-20th March 2022. The stillage was in the covered rear courtyard in the rear as usual, and the weather was generally kind.
Several members from our Branch and elsewhere popped along, including one from East Hampshire; well done Tony D. We were able to sample some excellent ales and ciders, details Happy Man BeerFest Beer List 2022. If you were there, what was your favourite? Let us know via Contact Branch.
Let's hope it's not too long until the next one. Meanwhile, the Happy Man has an ever changing range of interesting ales, so why not pop along?