Welcome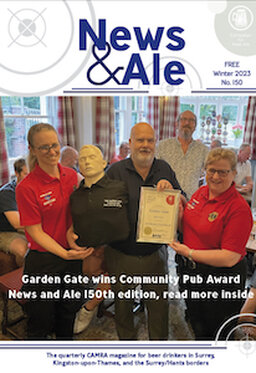 We're a friendly bunch of all shapes and sizes who enjoy decent beer, cider and pubs.
Follow Menu on left (or top left on a mobile) for links including Diary & What's On featuring the latest CAMRA Socials & local Beer Festivals, News of recent events and publications, interesting goings on and unfortunately Pub Closures. Minutes of recent Branch Meetings can be found in Members' Area. Check these and other pages out, and please get in touch with any questions, updates or info on our pubs, clubs and breweries via Contact Branch.
Our Branch covers the Boroughs of Runnymede and Spelthorne, from Stanwell in the north to Woodham in the south. If you click on Local Pub Guide, it shows all the real ale pubs we have listed, and gives an idea of our geographic area.
Our Branch Objectives are Promoting Real Ale & Cider, Protecting Pubs and Activating Members whilst having fun.