CASK MARQUE UPDATE
Friday 1 April 2022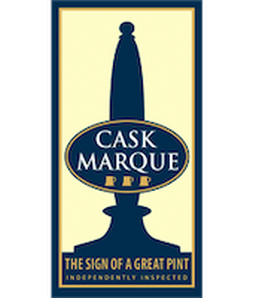 What is Cask Marque? Well since 1997, Cask Marque (which is an industry, not a CAMRA scheme) has been checking that the ale in subscribing pubs is in good condition according to their criteria. Each year their 60 assessors make over 20,000 visits to pubs in England, Scotland, Wales, Europe and the U.S to check the temperature, appearance, aroma and taste of Britain's favourite drink, including checking out cellarmanship. If pubs don't renew their subscription or fail to meet their standards, they're deleted from their database.
Two of our Branch pubs recently suffered this fate, both coincidentally similar in name, the Old Red Lion near Staines Station, and the Red Lion on the river in Shepperton. The good news is that the Rose & Crown in Thorpe has achieved Cask Marque standards and been added.
Of course we have 100,00+ assessors in CAMRA and Cask Marque does not just check real ale. Why not check them out yourself and score their beers or drop us a line via WhatPub, or via Contact Branch. Cheers!